Bio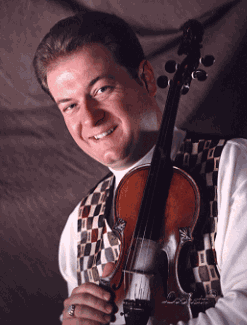 Steve Day, a Caneyville, Kentucky native, now makes his home in Bowling Green, Kentucky. Steve holds two prestigious honors;
one - a Kentucky State Fiddle Championship and the other as a member of Continental Divide. He was introduced to Bluegrass
by his father, Hargis Day and uncle, Marion Higgs.He has been influenced by fiddle greats like Kenny Baker and Glen Duncan.

Steve is a multi-talented fiddler and all around musician who has gained recognition among his friends, fans and peers not only for
his traditional sound but also for his explosive energy.Prior to joining forces with Continental Divide he performed off and on since
1987 with Gary Brewer's Kentucky Ramblers and has appeared on the Grand Ole Opry twice. Steve has laid down many fiddle tracks
on fellow musicians projects and has three of his own. Fiddle Man, his third solo project,promises to be everything it should be plus
more. It includes all the guys from Continental along with special guests, Larry Stephenson, Ronnie McCoury and Glen Duncan.

Despite his busy schedule with the Divide, Steve also finds time for a family agricultural business, his wife Diane and son Austin.